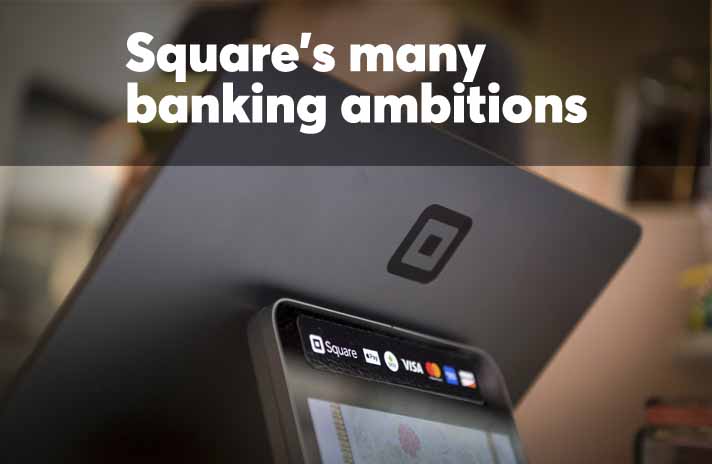 The mobile point of sale pioneer Square has done much to expand its product range to stay competitive, and a few of those efforts have made the company more of a direct threat to banks.
Not all of those projects have panned out. But the common thread among them is of a company that is a known disruptor turning its attention to an audience that banks hold dear.
This listicle is compiled from reporting by PaymentsSource writers including John Adams, Kate Fitzgerald and David Heun. Click the links in each item to read more.
Square's ongoing efforts to get an ILC charter
Square first submitted its application to the Federal Deposit Insurance Corp. to
create an industrial loan company
last September. But Square no longer appears on a public list of pending new bank applications maintained by the agency.
Square filed a separate application with the Utah Department of Financial Institutions, the state where it plans to headquarter its new ILC bank. A Square spokesperson said its application with Utah's banking department "remains active."
Yet the spokesperson declined to comment on what needs to be strengthened in the FDIC application or when exactly it made the decision to pull its initial submission. An ILC charter, controversial within the banking industry, allows a company to have insured deposits without having to follow Bank Holding Company Act requirements.
If approved, Square would be the first company to get a green light by the FDIC for an ILC since 2008.
Community banks have long resisted ILC charters, arguing that they blur the line between commerce and banking. The industry waged its biggest battle against the charter when Walmart filed an ILC application in 2005. The retailer later withdrew its bid in the wake of strong opposition.
The Independent Community Bankers of America sent a letter to the FDIC last fall opposing Square's application and arguing that "Congress should immediately address this issue and permanently close the ILC legal loophole before it is too late and we have huge commercial or technology firms like Amazon, Google or Walmart owning FDIC-insured ILCs."
Square
has said
its ILC is not intended to compete with community banks but to help small business that are left out of the traditional banking system.