Digital Banker
of the Year:
Fifth Third's
Tim Spence
What does holistic digital
transformation look like?
Tim Spence is busy
figuring that out.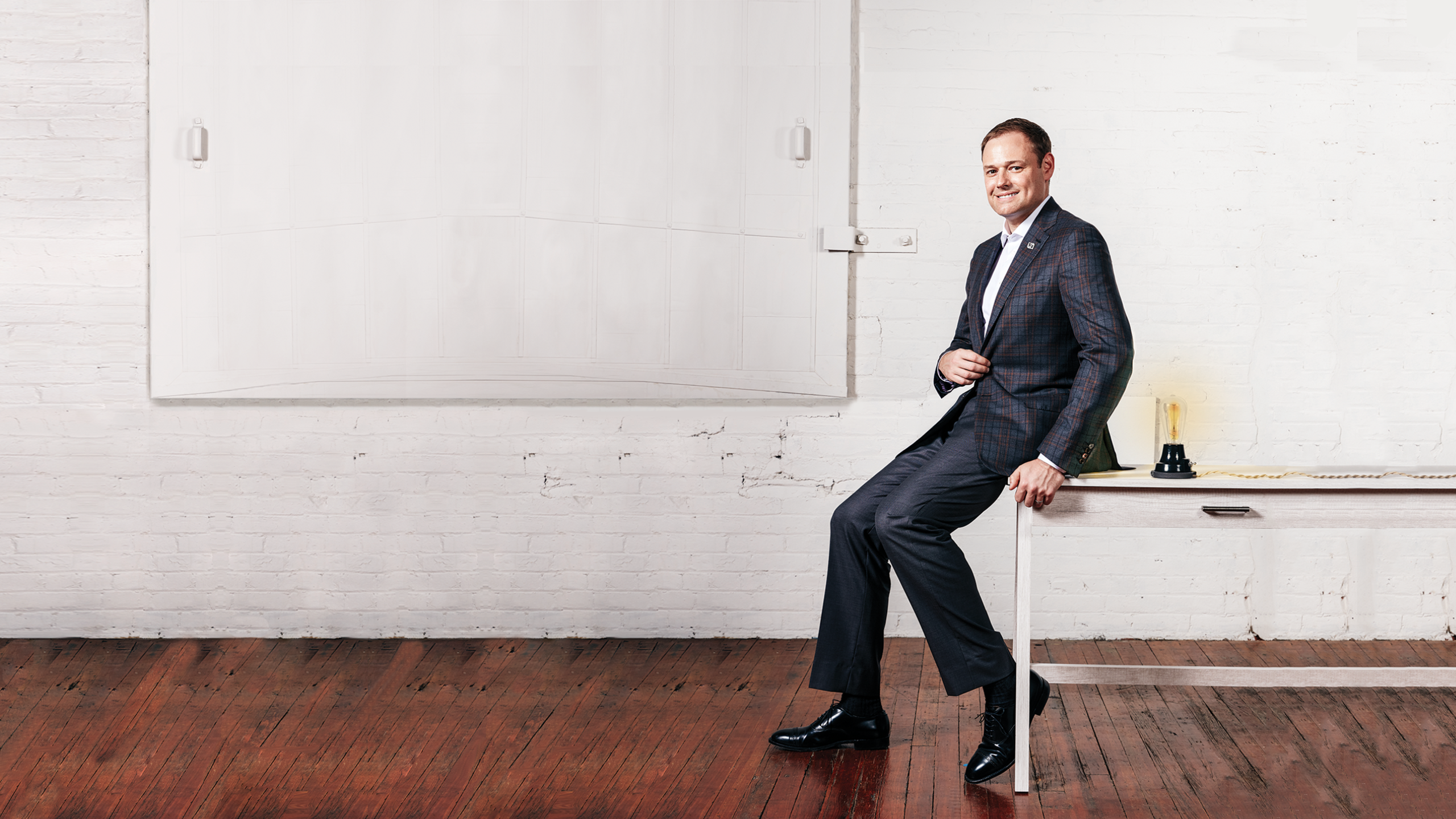 Digital Banker
of the Year:
Fifth Third's
Tim Spence
What does holistic digital
transformation look like?
Tim Spence is busy
figuring that out.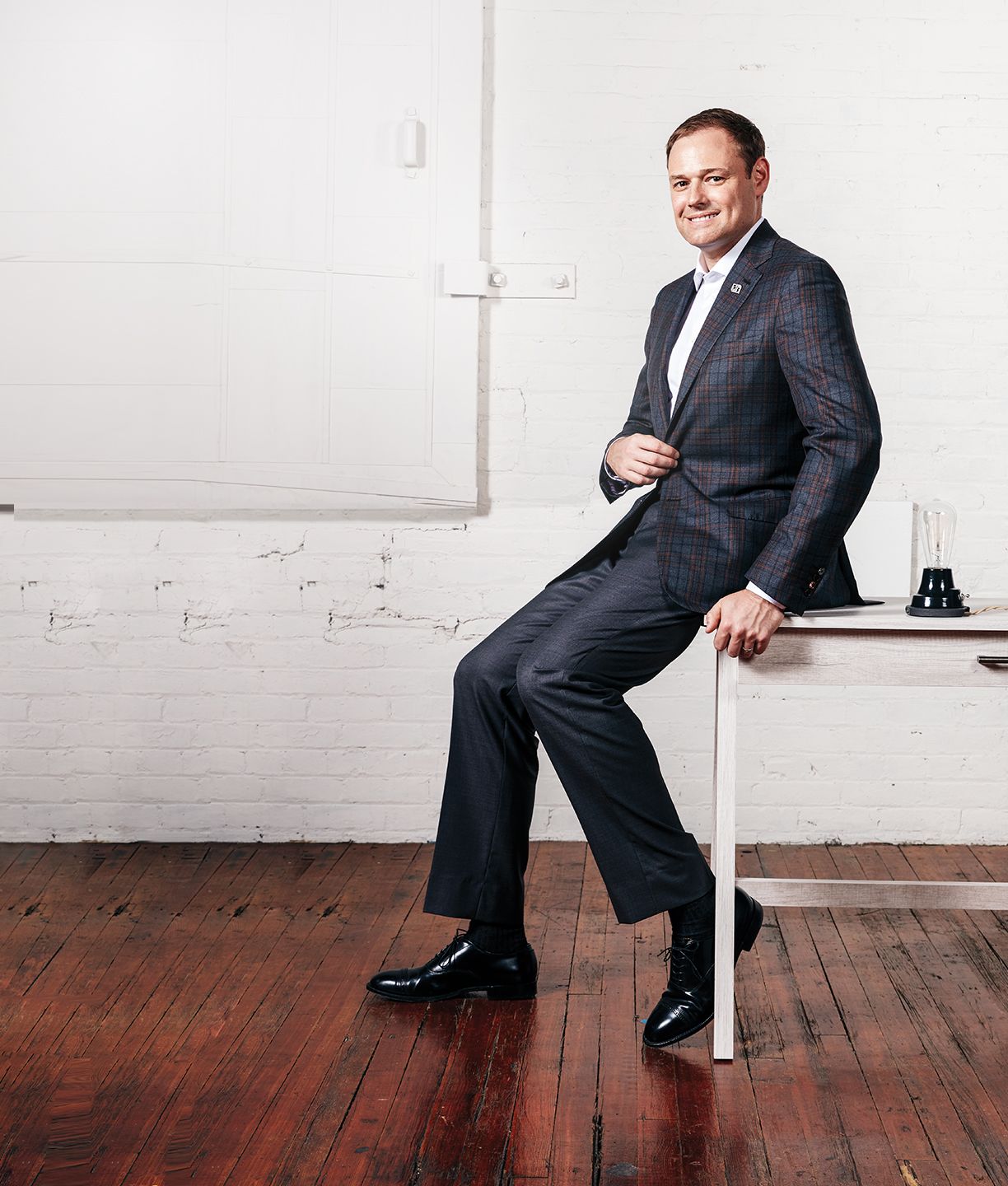 By Suleman Din
There's a book in Tim Spence's office that he's loved since he was a child — David Macaulay's "The Way Things Work," a compendium of drawings that reveal in cutaway detail all the components that work to let a trebuchet sling a rock, a bridge span a river, or a laser beam slice through solid steel.
When Spence is asked about the first piece of technology he ever owned, what immediately comes to mind is this book. "A lot of my interaction with technology actually had to do with disassembling old, broken things, probably inspired by the book," he said. "I wanted to understand the way that they worked, and how the pieces and the parts went together."
Growing up, Spence was breaking apart and reassembling toasters and computers. Today, he's helping to reinvent Fifth Third Bancorp in what it refers to as a holistic digital transformation.
The head of payments, strategy, and digital solutions, Spence has a new but critical role that goes beyond his title, one that is bound to become more common for financial institutions of all sizes chasing a transformation agenda. In the last five years alone, the top 10 U.S. banks have spent nearly $4 billion on fintech partnerships to boost their own technological prowess, according to CB Insights; a second study by research firm Statista found that 82% of U.S. commercial banks plan to increase fintech investment over the next three years. 
Spence is essentially the Cincinnati banking company's designated visionary for innovation, guiding its consumer and commercial operations, issuing research, championing new ideas and investments, and overseeing projects to transform everything from internal workflows to mobile offerings. And informally, he fills the role of mentor and confidant to many within the company and partners outside of it.
Last year, Spence oversaw the configuration of so-called Agile teams to work on Fifth Third's online banking channels and mobile apps. This resulted in a revamped bill pay experience, along with the addition of online branch appointment scheduling and the ability to withdraw cash at ATMs using the bank's mobile app. In months, it was also able to launch Zelle peer-to-peer payments and Momentum, a proprietary app that helps millennials pay off student loans faster through micro payments from rounding up purchases.
All of this is necessary, Fifth Third insists, since 50% of its consumer deposits now come through digital channels and 90% of its customer interactions are in digital channels. 
Spence also has steered Fifth Third's investment of more than $100 million in fintech companies, with the goal of getting an edge in retail banking. Its partners include home improvement loan facilitator GreenSky, which in April filed plans for a $100 million IPO.
Additionally, Fifth Third has beefed up tech offerings for commercial clients through partnerships with Transactis, AvidXchange, and Dade Systems, enabling it to provide updated turnkey managed accounts payable, accounts receivable, and billing services. 
The term "holistic digital transformation" itself is up for interpretation at banks. At small community banks, for instance, it largely means just making the switch from paper to digital forms, while the largest banks experiment with artificial intelligence and blockchain custody. Fifth Third applies the label to an evolving mix of internal and external initiatives that collectively touch just about all aspects of its operations. 
But regardless of what definition a given bank decides to use, emerging from Spence's work are key steps for any financial institution devising their own digital transformation blueprint.
Spence, 39, said there is a single question he returns to repeatedly as he helps the $142 billion-asset company reinvent itself, a question that all banks attempting such changes must ponder: What is the point of new banking technology if the customer's best interest isn't at the heart of it?
A focus on making customers happy by better serving their needs helps bring clarity to complicated decisions about which technology changes matter most.
For his leadership in the ongoing effort to make over Fifth Third for a digital age, Spence is American Banker's Digital Banker of the Year for 2018.
A few years ago, Spence had his own transformative banking experience.
Before joining Fifth Third in 2015, Spence was a senior partner in Oliver Wyman's retail and business banking practice. A report he read back then by Michael S. Barr really struck him, and stays with him still. Called "No Slack: The Financial Lives of Low-Income Americans," it detailed the daily money hassles that affect the estimated 10 million unbanked Americans. Moved by what he read, Spence decided at the time to go a week in Manhattan without using a checking account or ATM. 
There were many emotional experiences — from the panic in running out of money to the embarrassment in having to walk dozens of city blocks home after discovering his subway card had insufficient fare.
"You get a bill from the utility company, you pop it into bill pay, you pay the bill. You don't think to go to the utility bill collection center like many people living only on cash have to do," Spence said. "You don't think about the idea that you can't just pay for something on your credit card. You actually have to check to see if you have the cash to buy lunch." (Spence ended up missing the payment on his utility bill that week).
That sort of curiosity, empathy and desire to understand banking's impact on customers got the attention of Fifth Third's Greg Carmichael.
Carmichael had worked on technology initiatives for Fifth Third as chief operating officer before becoming the chief executive officer in 2015. And that's when years of lobbying Spence — a consultant on those initiatives — to join the company finally paid off.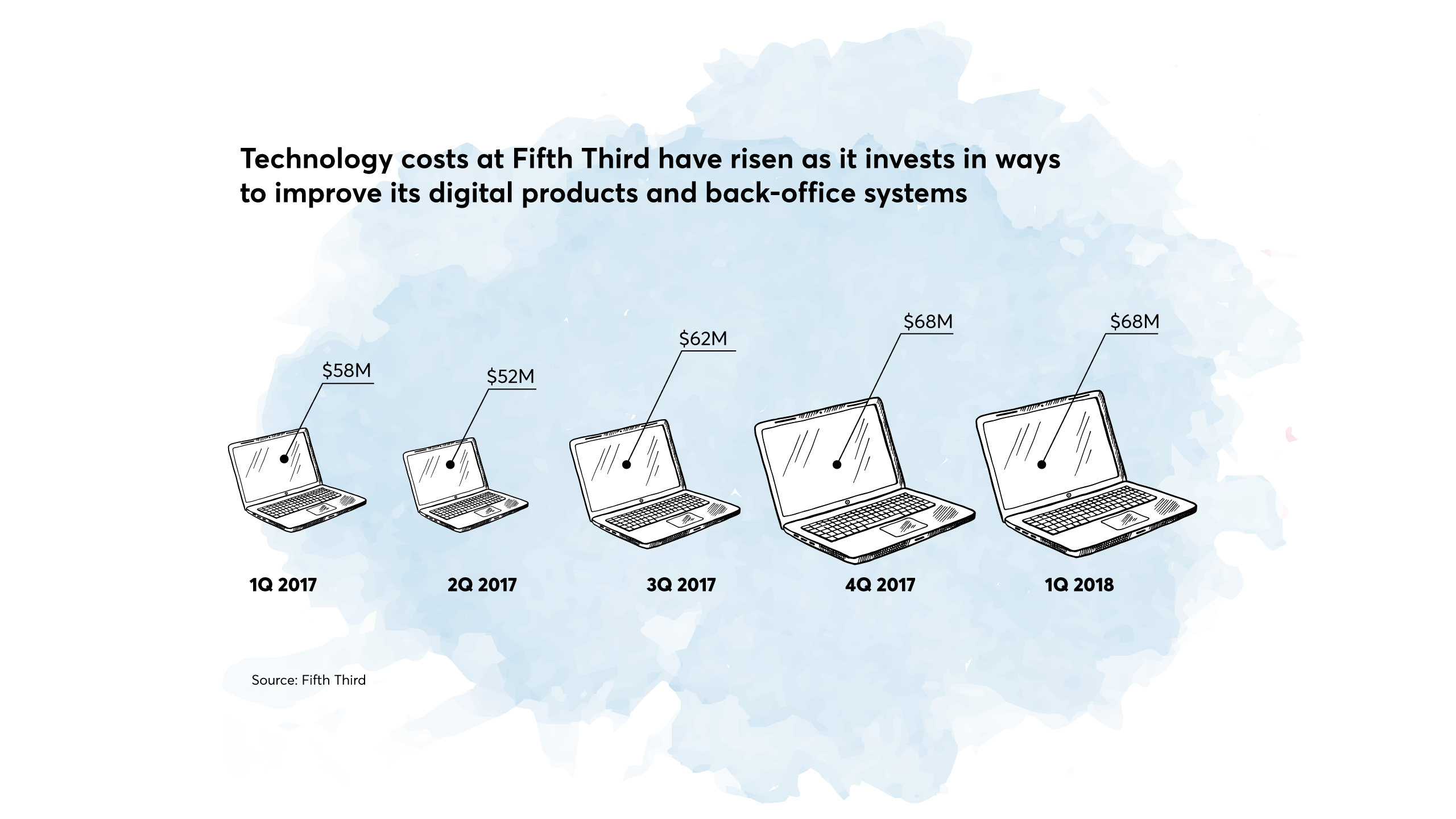 Spence said what won him over was the chance to immerse himself in change on a broad scale. "How do I manage the interactions with my clients holistically? How do I balance investments in physical distribution and digital channels?" he asked.
He also longed to see how things turned out. "In consulting, I kept finding reasons to hang around with clients after the engagements were up. I just wanted to see our work through." 
Once on board, it was Spence's turn to find others who believed in the mission of holistic digital transformation. He set out to recruit tech talent from his own rolodex, hiring Melissa Stevens as chief digital officer and Ben Hoffman to lead digital lending.
The importance of cohesiveness and dedication on a team tasked with innovation efforts cannot be overlooked. An early and oft-cited study on innovation published in the Journal of Marketing determined the two biggest factors in the success of corporate reinvention are people and internal culture. 
Spence first set out to examine how projects were being managed internally, and then reconfigured product development teams around the Agile innovation methodology.
Given Spence's background, that move should come as no surprise — many consultants tout the benefits of Agile for speedier innovation. It meant the Fifth Third teams became smaller and now worked toward whatever made sense for the overall company rather than being captive to one unit or manager. They were shielded from other demands in their particular departments to focus on a series of micro projects that would affect multiple areas of the bank. 
Stevens said some experienced culture shock at first. "Especially for middle management, not to be involved in the day-to-day, it was hard," she said. "Our challenge was, how do we help people through this, so that they feel like they are not losing control?"
The changes he makes are never personal, Spence insisted. The task of innovation in banking simply requires a constant, ruthless assessment of resources and a dedication to the mission. 
"There's a paradox in large companies," he said. "On one hand, resources feel like they're really scarce, because it feels like there are so many competing priorities. But simultaneously, you can create immense resources by reallocating work from low priority items to higher priority items.
"We have a saying in my group, 'If you're not in the driver's seat and you're not in the passenger's seat, you're in the backseat, and you shouldn't be in the car.' We talk a lot about how we make sure we're focused on the most critical priorities."
Fifth Third has some history with innovation that stands out, said Terrence Kelly, a principal at Bartlett Wealth Management in Cincinnati.
In the 1970s, the company formed Midwest Payments Systems to provide electronic funds transfer, or EFT, services to other banks, and later launched the country's first online shared ATM network. 
As Midwest grew, it was rebranded and then eventually spun off. Today, it's WorldPay, which claims to process 40 billion transactions for more than 1 million merchant locations worldwide annually. 
"To their credit, there's never been this fear factor about innovation at Fifth Third," Kelly said. "They recognized this was a way to develop a good stream of revenue for the company. They used old IBM mainframes and ran with it, and Midwest provided them significant profit."
Carmichael said the challenge for Spence was to connect the new transformation effort to the past innovation success. 
Fifth Third also had to deal with pressure from equity analysts, who question the long arc to its digital goals while issues like anemic loan growth and lower fee income impact quarterly performance. 
Carmichael argues the bet on digital is essential to performance, not a distraction from it. "Fintechs are nipping at our profit pools, mainly on our consumer side and small business side." Carmichael said. "You've got private equity firms coming in, searching for yield. So there are competitors all around us. That's the reality, and what we're doing about that is making sure we place our bets smartly."
He said the digital transformation is focused on ways to better reach and serve customers, which is essential given that 60% of Fifth Third's transactions now happen in digital channels. "Our customers want to bank differently than they did 15 years ago," he said.
Hoffman said Spence went on a charm offensive to bring in savvy fintechs that could give the bank an innovative edge. Spence works with the private equity firm QED Investors in Alexandria, Va., to spot promising opportunities.
One such partnership is with GreenSky.
In September 2016, Fifth Third invested $50 million in GreenSky, an Atlanta-based fintech whose technology platform enables home improvement contractors, medical firms and specialty retailers to offer instant loans and lines of credit to their customers. The banks that fund  GreenSky's lending see it as a way to diversify and grow their balance sheets.
Now GreenSky aims to expand into other niches, including helping customers arrange to pay for car repairs and buy luxury items. It also has plans to do an IPO.
"All these strategic partnerships that we've struck with fintech lenders — Tim will hate saying it — but he really was the material catalyst driving that change, helping win over hearts and minds," Hoffman said.
To convince skeptical bank executives that Fifth Third wasn't gambling away money on unstable startups, Spence offered detailed case studies from around the globe on both successful and unsuccessful fintech partnerships, Hoffman said. 
"He gave confidence to the organization, from the senior ranks on down, that we could actually deliver results, that we were not just signing a check, that we had the ability to make magic with these partners," he said.
Spence is also effective at reassuring wary fintech entrepreneurs, said Denise Thomas, co-founder and CEO of the franchise lender  ApplePie Capital.
Thomas remembered being anxious when she met Spence for the first time. Welcoming a regional bank as an equity partner into your early-stage startup isn't easy, she said. 
"You're wondering, are you going to kill me because you're a giant, or are you going to appreciate me and allow me to innovate and grow," Thomas said.
At her San Francisco office that day, Spence won her over by saying that Fifth Third wanted to learn from her how the relationship should work, since the bank had not partnered with such a young company before.
He also made her feel as if Fifth Third would be sticking around. "He touched on the long term and the need for a partnership to function well in good times and in bad times," Thomas said. 
Stevens said Spence's collaborative rapport is just as effective in the boardroom.
She recalled how Fifth Third was pondering the decision to launch Zelle during the fourth quarter of 2016. Stevens knew there could be some resistance, since banks often balk at the idea of taking on a major technology project at the end of the year, never mind one that would have to be launched in less than six months.
With the pitch underway, the discussion turned to how much revenue the service might generate, Stevens said. 
Spence stood up and launched into a lesson on the dynamics of the payments market.
Mobile P2P transactions in the United States were expected to top $120 billion in 2017, and that figure is projected to double by 2021, according to the research firm eMarketer.
Zelle would give banks a way to take on established and formidable competitors like Venmo and PayPal.
"At end of the day, this is about providing services banks should offer in calendar 2017," Stevens recalled Spence telling the room.
Swift agreement followed that "we needed to focus on the best solution and get it out as fast as possible," she said.
(Within two months of its launch last year, Zelle claimed 4 million users across all the banks offering it. By the end of 2017,  consumers had sent $75 billion through Zelle, more than double Venmo's volume for the year, and it is on its way to becoming ubiquitous.)
Stevens also credits Spence with getting Fifth Third's new innovation center located next to the C-suite.
Though there was a debate about whether it should be away from the headquarters building entirely, Spence stressed that he wanted executives and other employees to be able to see the work going on there. So the center — which is called ONE67, a play on 5/3, or 166.7% — even has glass walls.
"It's a place to be drawn into the amazing things that are happening and to be inspired to keep being an employee who makes amazing things happen," Stevens said.
People walk through regularly, check out what's being prototyped and contribute ideas. In recent months, the projects have included new branch designs, mobile app work and employee engagement brainstorming.
The interactive experience helps create excitement, Stevens said. "Tim and I don't think of things as winning over others, but influencing folks by engaging them in the work and letting them come to their own conclusions."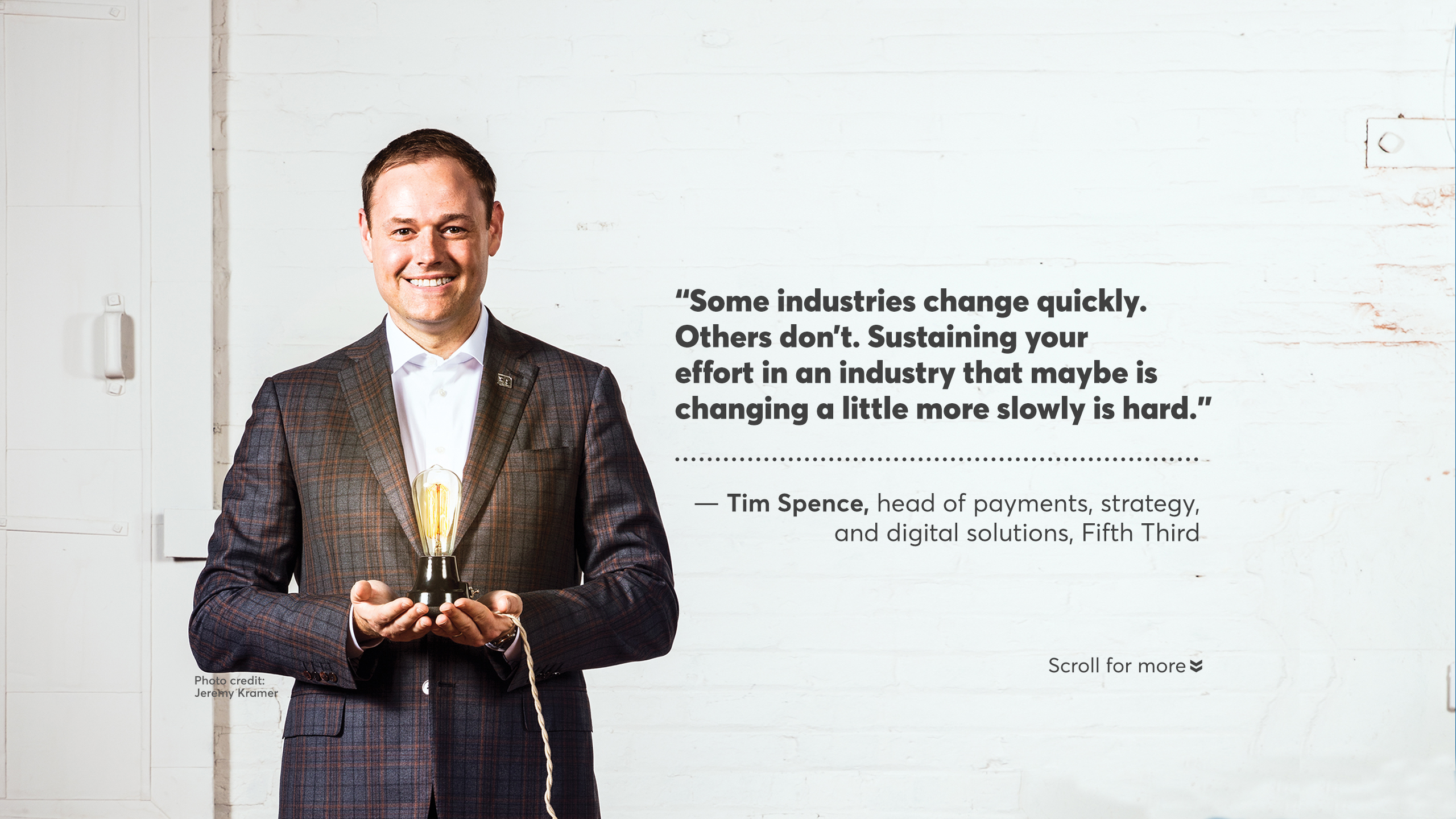 Carmichael said he's come to trust Spence exactly because he "doesn't think like the average banker."
Maybe that's because Spence has an interest in such diverse subjects. He grew up in the Pacific Northwest, where his father, a financial planner with the old Paine Webber, taught him how to read a financial statement when he was just 12. He earned his degree in economics and English literature from Colgate University and names T.S. Eliot as his favorite poet.
"Tim has been a catalyst for a lot of innovation in the company," Carmichael said. "To have someone like that, who I can lean on as my right hand person in this space, gives me a lot of comfort."
Spence gracefully accepts the compliment, but is quick to point out the role has its pressures. 
He said one challenge for banks attempting digital transformation is accepting when an initiative isn't going to work out. He cited as an example an attempt by his team to try to help small health care network providers in their auto reconciliation with health insurance companies. Though the service made money, the bank never achieved the scale it was seeking.
"We try very hard as a leadership team to acknowledge when something's not working and just move on. But having the discipline to say, 'We're throwing good money after bad here, and we just need to stop doing it,' is really hard," Spence said. "If something falls short of its projections, the tendency is to want to try and fix it."
An avid runner, Spence can't help but use a marathon metaphor when he talks about how the transformative process can sometimes drag, fueling misgivings. "Some industries change quickly. Others don't. Sustaining your effort in an industry that maybe is changing a little more slowly is hard."
There's the initial rush of an exciting project — the gun going off at the starting line and the crowd cheering, he said. "And then you get to mile 13 or 14, and you look around. You're about as far away from the finish line as you're going to get. The pack is stretched out. All of a sudden, you think, 'Wow, we really ran hard early. But we probably outran our pace.' You start to get the nagging sense, am I going to make it?
"The corporate equivalent is, 'We thought this was a good idea. The research did support it, but what if the projections miss? What if we're late on delivery? What if there was something wrong with the research?' And it takes real fortitude to make it through that stretch."
One component to aid forward momentum is curiosity. It was Spence's interest in understanding customers that resulted in Fifth Third developing a millennium-focused app, called, coincidentally, Momentum. 
It is a twist on other apps in the market that allow rounding up for different purposes — such as adding to a savings account.
Spence had been looking to learn all he could about millennials, who, studies suggest, are distrustful of banks.
So Fifth Third commissioned its own research, part of which entailed just following around young people going about their lives and documenting their activities, Spence said. 
"Half of the people opening checking accounts in U.S. are millennials," he said. "While we think millennials will have the same needs as their parents, the way they conceive of, and the way they choose financial services products, is going to be really different. We have to find a way as a company to change along with them to remain relevant."
Fifth Third sensed an opportunity in the millennial angst over student loans: Could the bank help with this burden?
Momentum is a free standalone app that lets customers link Fifth Third debit cards to student loan accounts held by more than 30 servicers. Then any purchase made with the debit card is rounded up to the nearest dollar, and the extra change is applied weekly to the balances on designated loans once a minimum of $5 is accumulated. Despite little advertising, more than 40,000 people have downloaded Momentum and have paid down more than $500,000 in student debt, according to Fifth Third.
Spence said the bank never could have come up with an app that would appeal to millennial customers if it didn't take the time to understand what they wanted. 
"We're headed toward a world where people experience things in a more thinly sliced way," Spence said. "You don't sit down and balance your checkbook for an hour. You check the transactions as they flow through on a day in, day out basis. So you have to be thinking more broadly than just what you can learn in a focus group."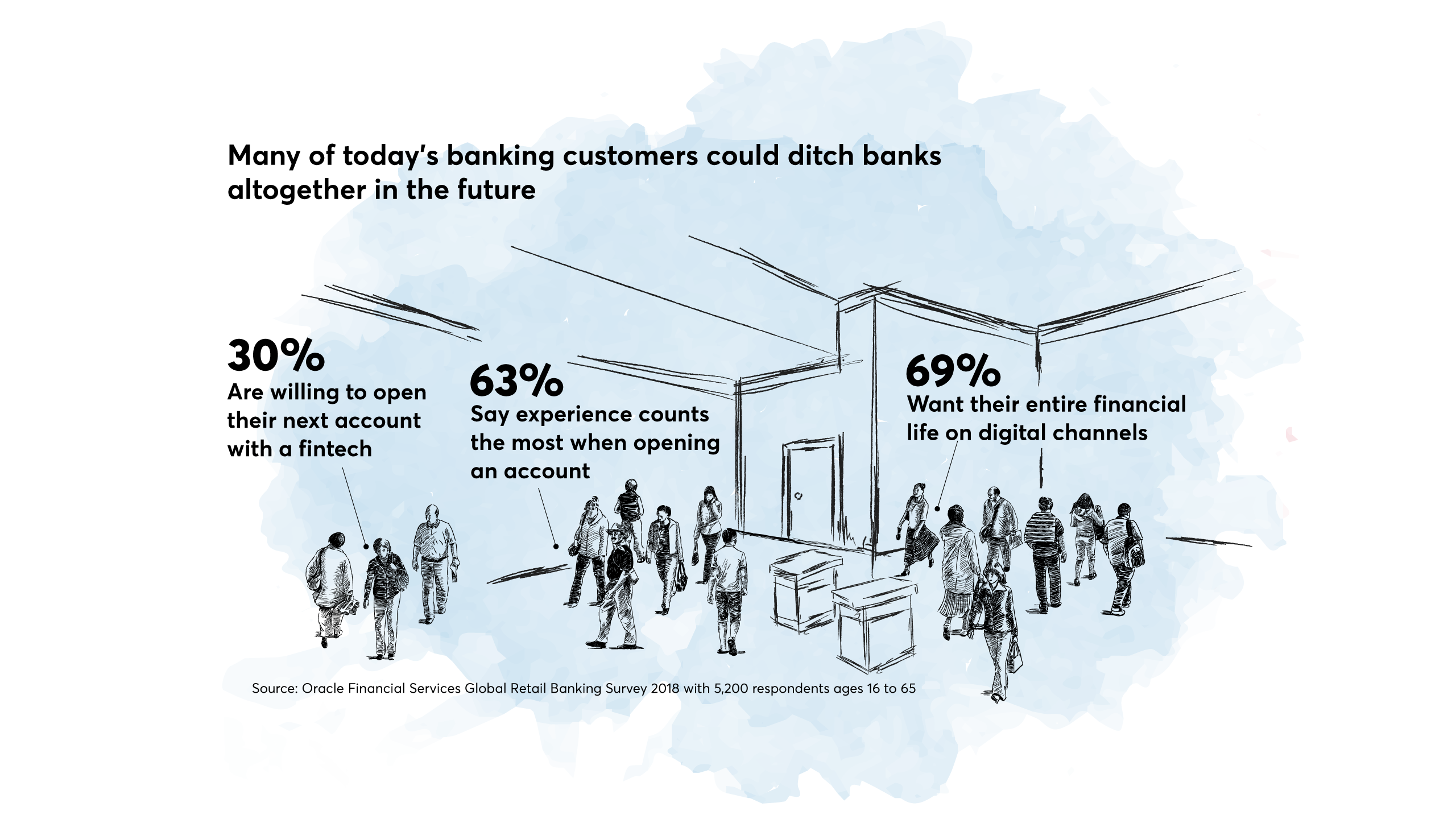 Spence believes going forward banks must work to embed themselves at the customer's points of need. Instead of going to a bank to fill out the paperwork for a home improvement loan, the customer will want to do it on their phone with the contractor. 
Banks also need to be "treating data as a product, rather than a byproduct, in financial services," he said.
He expects customers to simplify — in the same way that they are demanding of banks — and predicts a shift where they start using fewer apps.
And even as pervasive as digital is, and as critical as it is for banks to hurl themselves into it, he is doubtful that an all-digital model of banking, exemplified by the completely automated,  teller-less branch concept, will ever take hold.
"Financial services are abstract concepts," Spence said. "They're not tangible, and they rely on topics like interest compounding that are naturally a little bit confusing. We just believe there are lots of moments where the best solution for a customer is to have the opportunity to talk to someone." 
Spence, who values being able to spend some time alone in quiet reflection before the busy day begins, typically arrives at his office by 7 a.m.
Illuminating his desk is a single retro incandescent lightbulb encased in a glass shell, so its tangled arches of hot orange filament are visible. 
It's both a source of warmth and inspiration, according to Spence.
He takes comfort from the reply its inventor, Thomas Edison, supposedly gave when asked about all his failed attempts to invent the lightbulb. Edison said he had not failed, but rather learned a thousand ways that didn't work.
"I wish we lived in a world where you only had to get it right once," Spence said. "We're big believers in the idea that banking isn't about one single moment, rather the accumulation of small moments. Our role is to deliver an overall experience."
Besides Spence's office, there's one other spot Macaulay's book can be found in Fifth Third's headquarters — in the innovation center's library. Spence insisted that it stock a copy.
As he professes his fondness for the illustrated pages — "I loved the notion you could put things together and accomplish things in new and different ways" — it seems like an entirely appropriate addition.