Slideshow

Financial Innovation Through the Centuries
---
(Image: Thinkstock)
---
9000 B.C.: Medium of Exchange
Our ancestors barter with produce and cattle.(Image: Thinkstock)
---
5000 BC: Shell Money
Settlers in southeastern Europe trade spondylus shells as a form of currency.(Image: Thinkstock)
---
1000 B.C.: Metal Money
Chinese "tool money" serves as one of the earliest forms of coins.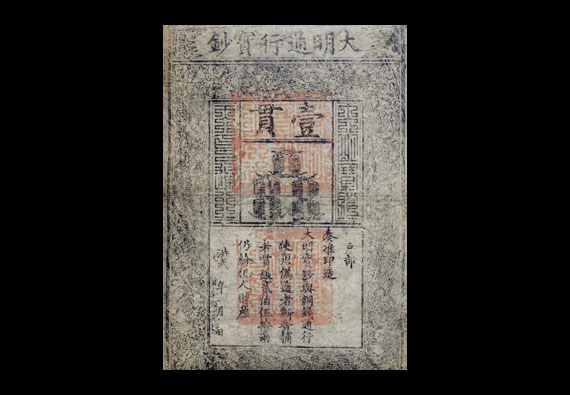 ---
806 - 1023 A.D.: Paper Money
Banknotes appear in China.
---
14th Century: Bonds
Financing war serves as the "father of the bond market" in Renaissance Italy as wealthy citizens in its city-states are forced to lend money to fund armies in exchange for interest upon repayment.(Image: Thinkstock)
---
1688: Insurance Brokerage
Edward Lloyd's London coffee house becomes a center for marine insurance.
---
1710: Futures
A rice futures market is set up in Japan.(Image: Thinkstock)
---
1913: Federal Reserve System
Woodrow Wilson signs the U.S. Federal Reserve Act, which establishes the nation's central banking system.
---
1933: National Deposit Insurance Scheme
The U.S. creates the Federal Deposit Insurance Corp. in response to a number of bank failures during the Great Depression.
---
1938: Secondary Mortgage Market
As part of President Franklin Roosevelt's New Deal, Fannie Mae establishes a secondary market for U.S. mortgages.(Image: Bloomberg News)
---
1949: Hedge Funds
An absolute return or "hedged fund" is created by financial journalist-turned-investor Alfred Winslow Jones.
---
1950: Early Credit Card
Diners Club International launches the first multi-purpose charge card.
---
1958: Modern Credit Card
Bank of America launches a credit card with a revolving line of credit.
---
1960: ATMs
A U.S. patent is filed for an early cash dispenser.(Image: Thinkstock)
---
1971: Floating Exchange Rate
The U.S. abandons fixed exchange rate system, a decision largely influenced by then Under-Secretary of the Treasury for International Monetary Affairs Paul Volcker.
---
1971: Money Market Mutual Funds
The first money market fund - a type of investment which regulators are currently trying to reform - is set up in the U.S. by investment consultants Bruce R. Bent and Henry B.R. Brown.(Image: Thinkstock)
---
1972: Debit Cards
City National Bank of Cleveland issues an ATM account debit card.(Image: Thinkstock)
---
1973: Point of Sale Terminals
IBM launches point of sale terminals that are linked to a mainframe store computer.
---
1976: Modern Microfinance
Nobel Peace Prize recipient Muhammad Yunus begins research that leads to the first microfinance bank - Grameen Bank in Bangladesh - in 1983.(Image: Bloomberg News)
---
1994: Credit Default Swap
Under the direction of its current head of global commodities Blythe Masters, JPMorgan Chase structures one of the first credit default swaps.(Image: Bloomberg News)
---
1999: Online Payment Service
PayPal, led by founding investor Peter Thiel, launches online payments.(Image: Bloomberg News)
---
2009: Digital money
"Satoshi Nakamoto," a mysterious computer programmer, introduces Bitcoin, a decentralized, digital crypto-currency with disruptive implications for the banking and payment systems.(Image: Fotolia)